How to play the game "Birthday Bicycle Game"?
Rachel has loved biking all her life, she can do all sorts of tricks to impress her friends! Today is a very special day for Rachel in this free dress up game, as she has been given a brand new bike for her birthday! This isn't just any bike though, it's the most fashionable bike in town! All Rachel has to do is tap the handlebars and her bike will reinvent itself to match her outfit! Rachel's other love is fashion, so this bike is a dream come true for her! Read more
In this girls' bike dress up game, Rachel is going to the park to show everyone her amazing new bike on her birthday. Isn't it great to be the centre of attention on your birthday? Rachel thinks so too, so she wants to look as pretty and stylish as possible in this free dress up game. There's some really cute, preppy fashion to choose from. Don't forget to match the bike to the clothes! Do you ever ride a bike like Rachel? Share your stories in the comments!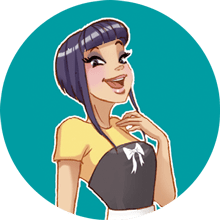 Birthday Bicycle is one of my favorites! We clearly have awesome taste! Come and play more of my fave birthday games!