How to play the game "A Spa in Candyland Game"?
Amy made a wish to her fairy godmother to live in the land of jelly, the city of lollipops and a candy house. Hey presto! It may just be a dream, but this girl is now happier than a bright pink gummy bear! Do you know where the people of Candyland go to wind down and relax? The CandySpa, of course! It's the sweetest spa in the world! Read more
In this game, we're going to apply lots of different beauty treatments to this lucky girl's skin. Mmm, can you smell all the different fruity scents? Lemon, strawberry, raspberry and blackberry...delicious! Now we need to choose a traditional Candyland outfit! Then, apply some sugary sweet makeup and style her hair. We've already found our favorite sweet treats in the background!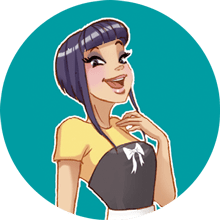 A Spa in Candyland is one of my favorites! We clearly have awesome taste! Come and play more of my fave beauty games!