How to play the game "A Horses race course Game"?
This game is for girls for girls who just love their horses and horse races. It's a great horse race game. Start by clicking on the word "jeu" (which means "play" in french). Then just select the course that you want. To start with in this fun game there is only one course to play on, but if you pass the first one, you'll unlock more and more courses on this fun game for girls. Read more
Just use your arrow keys on your keyboard to direct the horse (up sends him forwards, and left and right makes him change direction). Then use the space key on your keyboard to jump over the hurdles. You need to go round the track as many times as you can before the time runs out, and try to beat the other horse, who will be running very fast. Play this girls horse game for girls as many time as you want. It's one of the lots of fun games that we have for girls on mygames4girls.com!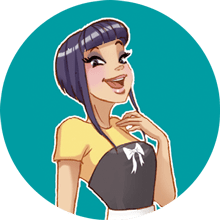 A Horses race course is one of my favorites! We clearly have awesome taste! Come and play more of my fave free games!