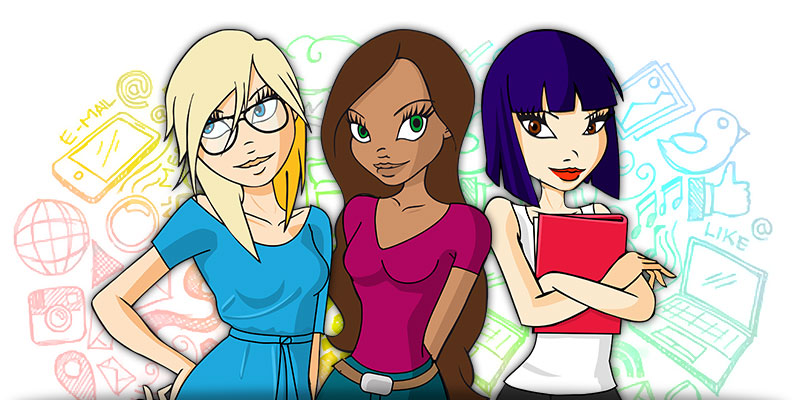 Hi there! We are Lilou, Lea and Lee, three bffs who created this website. Find out more about us here and join us as we play, have fun and learn new things together. We'd like to know about you too, we bet we've got a lot in common!
---
Hi, I'm Lilou, what's your cup of tea?
"Quiet people have the loudest minds!"
Meet Lilou! She's always up to date with the latest digital trends, and her other passion is trying out new recipes! She's the shyest one of us, but she loves her close friends and family and can't wait to be friends with you. Find out what she has to say about herself...
Dream Job: I like to be the decision-maker in my projects, that way I feel I'm really making a difference. I think I'd love to be a professional chef because I could try food from all around the world... or maybe a creative editor for an awesome cooking website. I've started cooking school this year and it's tough, but I'm loving it!
Beauty Tip: I would say play up your eyes - in my opinion they're most people's best feature. If you wear glasses, rock a statement pair!
Favorite Animal: Cats! They're so clever and cuddly but they love their alone time too; I like to think I have something in common with cats!
Prized Possession: My tablet. It has all the tech news I need, plus some great cooking apps and blogs that I follow!
You'd never guess I... I don't know! I'm really shy, but I don't let it hold me back. I'll always follow my dreams, just with more - subtlety, I think - than Lea and Lee!
---
I'm Lea! Do you have a dream?
"Dream big, and work hard to get what you want."
Meet Lea! She's a fashion addict with her own unique style. She's going to make it big in the fashion industry one day, when she decides whether she wants to model, or design, or sell... she hasn't decided yet! Lea's a social butterfly; she loves chatting to new people, so allow her to introduce herself...
Dream Job: Well, it's got to be fashion! I'd love to be a fashion designer, or to run my own fashion brand! Or a model. I'd make an awesome personal shopper, but I could also be a stylist for celebrities too.. Okay, I guess I'm not sure yet!
Beauty Tip: I love getting inspired by different cultures! I actually own an amazing satin kimono. It's a great way to stand out, as beauty means something different all over the world.
Favorite Animal: I love ferrets. I don't care if that's a bit weird! They're always chasing after something, and they're so friendly!
Prized Possession: My bangles, I wear them wherever I go. They're vintage - I found them at a flee market and they give any outfit a chic touch. Unique pieces of jewellery that start conversations are the best.
You'd never guess I... am a total perfectionist! I'm such a nit picker it can drive everyone a bit mad. I've also been told I have a seriously competitive side...
---
And I'm Lee! What did you learn today?
"Always follow your instincts and be spontaneous!"
Meet Lee! Our budding scientist loves to experiment - one day she hopes to combine her passions for chemistry, creation and makeup and get a job creating new cosmetics, or put her artistic skills to use working backstage at the theater! Lee loves a challenge and she'll sort out any problem with a bit of imagination. Listen to her story...
Dream Job: At the moment I'm torn between being a makeup artist or designing my own makeup range...
Beauty Tip: Take time to identify your favourite features and highlight them. There's no 'one size fits all' rule for makeup.
Favorite Animal: I don't think I could pick just one… How about birds of paradise? They're so colorful, I'd love to see some one day when I'm travelling the world...
Prized Possession: My makeup. Yep, all of it! I've got some really good quality pieces, and I had to scour the shops and the web for some of them! I don't know what I'll do when they run out, let's not think about it...!
You'd never guess I... I've often got my head in the clouds...If I don't pay attention sometimes, it's because I'm planning my next creation in my head!
---
Each of us is unique in our own way - now tell us about you! Which one of us you would like to hang out with and why? What is your dream?
Add My Comment!
Add My Comment!