How to play the game "Waitress of the Penguins Game"?
In this lovely waitressing game you've got to be really clever. you've got to seat guests, and take orders, bring meals to the tables and then collect the money for every customer...but there will be more than one customer in the restaurant! sometimes there will be two on one table! It gets very busy in this restaurant! You've got to make sure you don't forget anything or anyone! Just use your mouse to click on the person, table or food item that you want to move, and then click where you want it to go. Read more
This is a really fun special game for girls because you need to watching everything at once, and it can get very fast and busy, and you have to think about lots of things at the same time - you'll love it, and you'll be laughing so much! See how much money you can earn by the time the restaurant closes at the end of the day - and see how many days you can get through before it gets too busy! If you're really good, I wonder how many days you'll survive...remember to register for free on the website, and put your highest score in the comments box for this game for girls!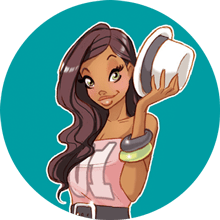 You're clearly loving Waitress of the Penguins - you should check out my pick of the best cooking games!