How to play the game "Supermodel Makeover Game"?
Marianne has always wanted to be a model. When she falls asleep every night she has dreams of gliding down the catwalk and wearing the most luxurious clothes and make up. Something magical happened when she was dreaming last night though...she woke up and she was in her dream! Models were all around her and make up artists and stylists were fighting to style her. She had become a famous supermodel! In this make up game for girls, you are Marianne's dream make up artist. Read more
There are so many famous designers and models in this dressing room, Marianne can hardly contain her excitement! She's going to be in for a shock when you've finished applying her make up, as she will clearly be the most beautiful model in the room. In this girls' make up game, you will notice that there is a fantastic choice of make up. Experiment with different looks. Remember, this is a catwalk show, so don't be afraid to be edgy! You also need to style Marianne's hair - the bigger, shiner and more colorful the better - that's what all these super cool stylists are saying! What an amazing experience for Marianne, we hope this is a glimpse of her future career! Now, strike a pose!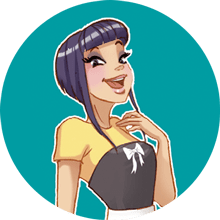 Supermodel Makeover is one of my favorites! We clearly have awesome taste! Come and play more of my fave model games!