How to play the game "Magazine Cover Model Game"?
Jenna has been modeling for almost a year, and she's finally been given her big break! A brand new magazine called Fun Girls is launching next month, and she's been asked to model for the cover of the very first issue. How exciting! In this model dress up game, you'll get to style Jenna for the photo shoot with a cute outfit and a nice new hairstyle. You'll even get to choose the color and layout of the magazine cover and text, just like a graphic designer! If you've ever dreamt of having your face splashed across magazine covers or if you'd like to work as an editor or designer, you'll love this dress up girl game! Read more
It's not every day you get to design a magazine in our girls' games! But just like all of our dress up games, it's totally up to you how you style this pretty model for the photo shoot. You can choose from checked shirts, t-shirts with slogans, colored jeans, denim skirts, sandals, sneakers, sunglasses... just click the arrows to see all the options available in this free dress up game for girls. Once you've found the perfect look for Jenna, you can choose the color of the magazine cover, text, and select from a profile or full-length photo. Finally, click 'Show' to see how your magazine will look when it hits news stands next month! Make sure you check out the rest of the dress up games on the site - there are lots more great surprises waiting for you here!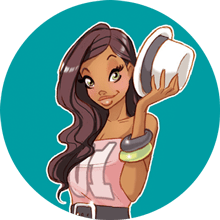 You're clearly loving Magazine Cover Model - you should check out my pick of the best dress up games!