How to play the game "Free Penguin Game"?
Are you a smart girl with impeccable logic skills? Come and put your gray matter to the test with this free animal game! The aim of this game to collect the the number and type of penguins indicated on the right of the screen as quickly as possible; to do so, you need to let them touch the ground. This online puzzle game might sound easy, but you'll probably need a few tries to get it right! Read more
Like many of our girls' games, this penguin puzzle requires concentration and quick thinking. Click the colored blocks in the order you see at the bottom of the screen, then select one to let them disappear. You need to let the penguins hit the floor to reach your target in this logic game; look to the right to see how many and which colors you need to free. Want to play more animal games for girls? Have a look around the Fun section for penguins, tigers, pandas and all your favorite animals!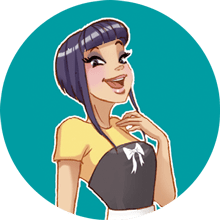 Free Penguin Game is one of my favorites! We clearly have awesome taste! Come and play more of my fave free games!