How to play the game "Color the Three Wise Men Game"?
The Three Wise Men are about to end their long journey from the East and mygames4girls.com would like to give them a Christmas gift. We have this picture of Melchor, Gaspar and Baltasar in the stable of Bethlehem in this free girls' game, with Mary, Joseph and the baby Jesus. However, the picture is in black and white, do you think you could color it in on this free Christmas coloring girls' game? Show the Three Wise Men how good you have been all year and maybe you will even receive more presents! Read more
What have you asked for this year? Have you asked for lots of toys and gifts? Lilou, Lee and I have asked for many new girls' games so we can keep having fun next year! Be sure to keep checking out the website, as there's something new every day at mygames4girls.com!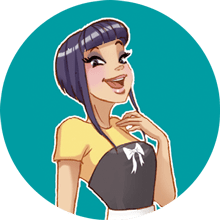 Color the Three Wise Men is one of my favorites! We clearly have awesome taste! Come and play more of my fave three wise men games!