How to play the game "California Beach Fashion Game"?
Jasmine is a very happy and lucky girl. Her family has just moved to Orange County and bought a beautiful and spacious beach house. Jasmine was sad at first to leave her friends for a new life, but as soon as she saw the beach, she was the happiest little girl in the world! The beach is right outside her house, so she really wants to make the most of this! In this girls' beach fashion game, you get to find a wonderful beach outfit for Jasmine. We're sure she's going to turn heads when you've finished styling her up! Read more
Just like in all Californian summer wardrobes, you'll find a lot of cute bikinis, swimsuits, sarongs and more in this beach dress up game. If you dress Jasmine up nicely, maybe some of the surfer guys and girls will come and chat to her! C'mon, help this pretty girl get off to a good start in California! Totally rad, those are some seriously cool outfits...we're stoked man!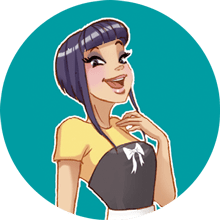 California Beach Fashion is one of my favorites! We clearly have awesome taste! Come and play more of my fave dress up games!