How to play the game "Bakery Dress Up Game"?
It's a big day for Julie, she has turned 16 and is finally joining her mom working at the family bakery! She is sooo nervous. Will the customers like her? Will she work quickly enough? Will her mom be impressed? You're not going to be behind the stove in this dress up game for girls, you're going to be beautifying Julie and giving her the confidence she needs for the day ahead! Read more
In this beauty dress up girls' game, view the selection of beauty products available in Julie's makeup kit. Wow, a rainbow of colours! Try different combinations of foundation, mascara and lipstick to make our little baker more radiant than ever. Then, most importantly, dress up Julie in the perfect outfit for her first working day. Don't forget to choose a cute matching apron and oven gloves, they're the height of kitchen fashion! Now she's ready to go, Julie can finally start baking. Wow, with an assistant as pretty as her, the family bakery is going to be busier than ever!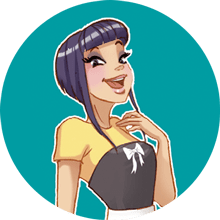 Bakery Dress Up is one of my favorites! We clearly have awesome taste! Come and play more of my fave beauty games!