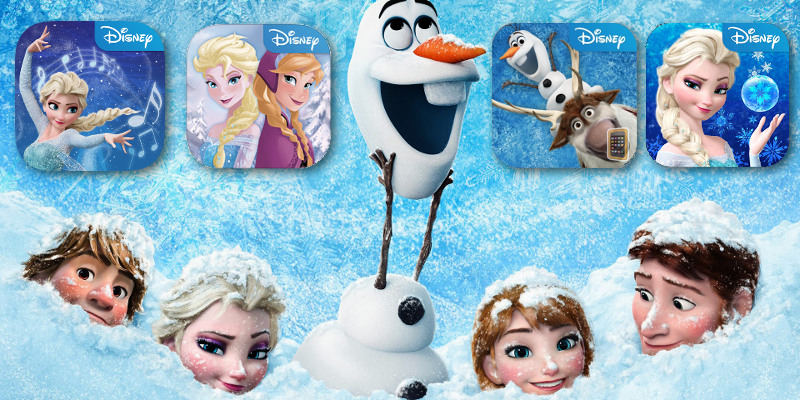 We've been admiring our extensive collection of Frozen apps (our iPhones are starting to resemble miniature shrines to Arandelle. And Olaf. Especially Olaf). We were having a bit of a cleanout and thought you guys might appreciate a run down of our fave Frozen apps…
Frozen Free Fall
In a nutshell, it's Candy Crush meets Frozen; colourful, frosty-looking shapes slide around and you have to match them up to blast your way through the wintery wonderland with Elsa, Anna and co. This app gives you hardly any lives, so you'll need patience! Or a punchbag.
Frozen: Storybook Deluxe
This clever little app combines mini games and clips from the film to retell the story of Frozen with a twist; you get to hear two very different sides of the story! Read both Anna and Elsa's versions of the tale and liven things up a bit by making your own ice-art drawings!
Interesting Fact Alert: Olaf's name is literally taken from 'Oh, laugh'. Which is why Olaf is the cause of many LOLs, ROFLs and possible even a LMAO or two.
Disney Karaoke: Frozen
WARN YOUR NEIGHBOURS BEFORE DOWNLOADING. If you can't let go of Let It Go, this is the app for you. You get to wail along with every song from the movie (they provide the lyrics so you don't even have to mumble over bits you're not sure about anymore), watch the videos and even record your own voice along with the original music. Hours of dramatic arm waving and fist clenching.
Olaf's Adventures
Basically a ton of mini games that you play with Olaf, who offers hilarious jokes and chats away as you ice skate, fly, hunt for treasure and just about anything else you can think of through all the seasons (not just winter, which makes a nice change).
If you love Frozen, these apps open up the movie for you in a WHOLE NEW WAY. Dive into the magic of Arandelle with, er, your fingers.