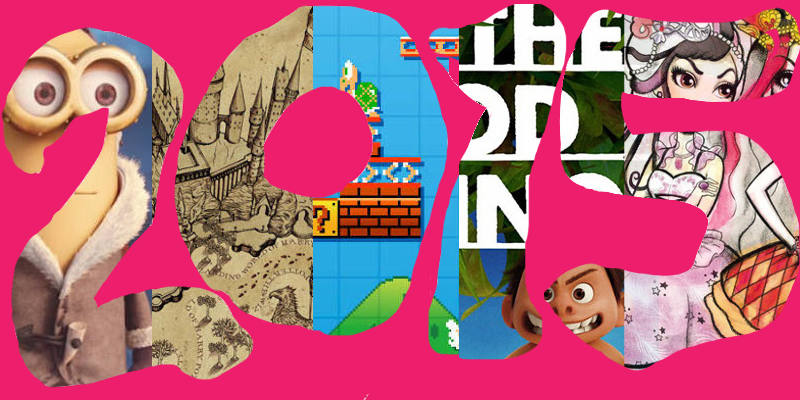 Film
Starting with film, there's A LOT of exciting things happening in 2015. The Spongebob Movie: A Sponge Out of Water will be hitting our screens with a never-before-seen style of Spongebob as he has been totally computer animated! Guess we'll have to wait and see how we feel about Squidward in 3-D…
THEN we have the amaaaazing Cinderella live-action remake to look forward to. We've seen the trailer, we wrote the article, but if you haven't seen it yet you need to check it out.


In summer we have our favourite little yellow people making a long-awaited return to the big screen - the minions! Their movie, imaginatively titled Minions, explains the strange and wonderful history of the little guys, from bacteria (no, really) to Napoleonic times to the modern day.

Did you know? 2015 is just the year in the Gregorian calendar used in the west. In the Buddhist Calendar 2015 will be 2559, and in the Islamic Calendar 2015 will span 1436-1437. AND it's the Chinese Year of the Goat. We're not planning any international dinner parties, no one would turn up on time! Nightmare.
Most exciting of all is the newest offering from Pixar eeeeeeee. They're being very very cagey about it so far; all we know is it's called The Good Dinosaur and it's about a friendly Apatosaurus who befriends a boy named Spot. But you know us - as soon as that trailer is out we'll have it here for you.

Harry Potter
Genuinely some new news about Harry Potter! Quite possibly the first since Pottermore, maybe it's Lea, Lilou and Lee's first exclusive…? Besides the point.
Publishers of our bespectacled wizard pal are organising a global Harry Potter Day on February 5th, where people come together and share stories/memories/Transfiguration papers with one another and aim to inspire a whole new generation of readers!


There's even a downloadable kit for people who want to take part, which we are unspeakably excited to get our hands on. It's like downloading Ollivanders (probably).
Ever After High
The EAH gang are continuing to release the debut dolls for royals and rebels. We're still waiting on Ginger Breadhouse, Rosabella Beauty and Hopper Croakington II…
There's also a whole new book series for Ever After High fans to look forward to. The first instalment, Next Top Villain, will be out in January.
Games
We're already being pretty spoilt in 2015, but on top of all the VERY EXCITING stuff above, there's two brand new Mario games for the Wii U! Mario Party 10 (actually the 14th game, fact fans) will bring back all the classic mushroom-chasing racing madness we love, while Mario Maker lets you build and play your own levels! We're going to forget what 'outside' looks like at this rate.

And in Other News…
In March there'll be a total solar eclipse (they're the coolest ones FYI) visible over the North Atlantic. Get your fashionable (!) protective specs and look skyward to see it.
The UN have dubbed 2015 the International Year of Light, which sounds lovely. They've also designated the new year as the International Year of Soils, which sounds… a bit weird, actually.
The Nasa spacecraft New Horizons will fly past Pluto in July, which is so tiny and far away it's not even allowed to be a planet anymore.


After that, the craft will explore the area for five months, which probably won't be all that thrilling because it'll just be a load of floaty rocks and stuff. New Horizons will then continue it's journey beyond our Solar System. Blimey.
And that's it for our pre-cap (see what we did there!) of 2015. Did we miss anything?!