How to play the game "Violetta and her date Game"?
Eeeek! Violetta is so nervous! She can't believe her luck! She met a cute boy at a party some time ago and now she is about to go on a date with him! He's going to pick her up in an hour and she wants to look really gorgeous for him, so she wants a total makeover. She needs your help in this free game for girls. Read more
Violetta loves to experiment with different styles and colours, and there are certainly plenty to choose from here. Her favourite thing to style up is her hair. Cut it, curl it, straighten it, curl it and dye it all sorts of crazy colors! Wow, she's going to knock her crush's socks off! Now it's time for make up. Mascara, eye shadow, lipstick and blush...there's still so much to do! You can also choose some cute jewelry and a pretty top for Violetta. It's a good job she's had a girls' make up games expert like you to get her ready. Good luck Violetta! We hope he's the boy of your dreams...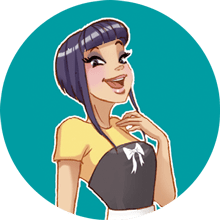 Violetta and her date is one of my favorites! We clearly have awesome taste! Come and play more of my fave hair games!