How to play the game "Ukulele Girl Dress Up Game"?
Emily is a musician who can play the ukulele like no one else. People come from miles around to hear the soothing sounds of her music. However, they also come to see if she's really as beautiful as the rumours say. What do you think? In this free dress up game for girls, Emily's becoming so famous that she's decided to hire some staff to help her, and you're her new stylist! Read more
Emily is a folk girl at heart, so choose from frilly skirts, pretty bows, cute socks and plenty more to complete her eclectic look in this free girls' dress up game. The prettier she feels, the prettier she will play! You can also send her to the beach once her gig is over, and she's going to need a whole new outfit for that! Emily loves to accessorize, and her music is just as important to her as fashion, so check it out...you can even match her ukulele to her outfit! Maybe she'll teach you to play if you teach her some fashion tips. Take it away Emily!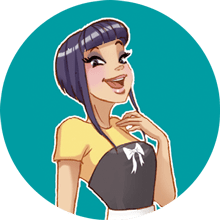 Ukulele Girl Dress Up is one of my favorites! We clearly have awesome taste! Come and play more of my fave dress up games!