How to play the game "Top Model Dress Up Game"?
It's fashion week, and everyone is talking about one event: your first fashion show! This fun dress up game lets you create different styles of outfit for up to four models, who will strut down the catwalk and face the judges in an exclusive fashion show. Anyone who's anyone in the fashion world has gathered to see your style debut in this girls' game, from designers to critics to world-famous supermodels. They're all dying to check out your newest designs and accessories, so don't let them down! Read more
In this fashion game you'll have to race against the clock to find the perfect outfits for your models. The wardrobe is full of tops, pants, dresses, coats, shoes and accessories to choose from, but you'll need to choose carefully and create an outfit suitable for certain themes: hip-hop, casual, winter or summer. Each outfit you create will be evaluated by five judges. If they think your choices are up-to-date with the latest and future trends, they will give you good scores and allow you to move on to the next level of this dress up game. If the outfits you choose aren't suitable for the theme, you'll have to try again. Have fun playing with around with colors and styles in these girls' games - this is your chance to become a designer for the stars!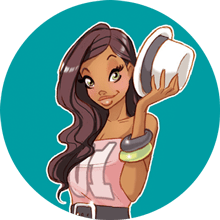 You're clearly loving Top Model Dress Up Game - you should check out my pick of the best model games!