How to play the game "The Treehouse of Fairies Game"?
In this magic kingdom live families and friends of fairies. They are beautiful little creatures who fly around and look so pretty! This fairy is called Annie. Annie has just moved into a lovely new tree house, and she needs to move all her furniture in. Her friends are all busy today though, so she has no one to help her. Can you? Read more
These is a lovely game for all girls who love fairies and their homes. All you need to do here is to click and drag each item of furniture into a good place in the house. Don't worry though, you can move them as many times as you want, so if you aren't happy with the first place you put something - just move it again!
If you're really good at this, maybe Annie will invite all her friends over for a party tonight! And if you enjoy this sort of game, there are lots of others too, on mygames4girls. You can even show your friends, by clicking on the "send to a friend" button".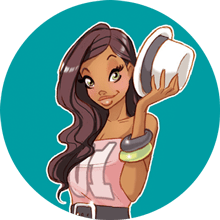 You're clearly loving The Treehouse of Fairies - you should check out my pick of the best fairy games!