How to play the game "Spy Dress Up Game"?
Assignment: dress up game. Code name: Sidney 007. Secret Mission: no. MG4G. Agent Lilou reporting, girls; Lee, Lea and I have a top secret assignment waiting for you in today's dress up games! Your mission, should you choose to accept it, is to dress up the most stylish spy around. We've known Special Agent Sidney 007 since kindergarten; she always loved spy games, and she was unbeatable when it came to hide and seek. How would you like to find her an outfit for her next secret mission in this top spy game? Read more
Sidney's next secret assignment is going to be full of twists and turns, which is why she's picked out her best costumes, clothes and shoes for you to choose from in this undercover spy dress up game. As any decent spy will tell you, you need lots of crazy gadgets if you want to snoop on bad guys: she's got night vision goggles, a multi-function hat, a cool camera watch and even a parachute! Fortunately this game won't auto-destruct once you've played it, so have fun dressing up this stealthy spy girl, and remember to tell your friends about our girls' games! Mission accomplished.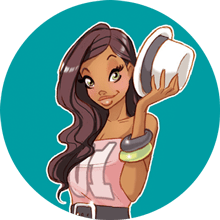 You're clearly loving Spy Dress Up - you should check out my pick of the best dress up games!