How to play the game "Spring Floral Manicure Game"?
Spring is here! The flowers are in bloom and the streets are filled with children playing and parents soaking up the sun. Emily is a bit of a tomboy, so normally she loves climbing trees and playing in the mud. However, she's a bit older now, and has become more interested in lots of girly pretty things like make up, beauty and free girls' games. She's just like us then! Something Emily has recently discovered is how much fun it can be to play around with different nail trends. Read more
Whether it's basic nail polish or glitzy manicures, Emily loves trying out the latest looks. Pink, red, yellow, glittery... you name it, she loves it! As it's spring, Emily has been looking in her pretty garden for inspiration. After picking lots of flowers and putting them in her hair, she thought to herself, 'Why not put flowers on my nails?!' Try out different designs with all the different colors of nail varnish and cute stickers in this girls' game, and then finish Emily's look off with a chic ring. Make up at your fingertips!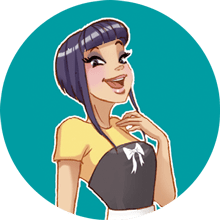 Spring Floral Manicure is one of my favorites! We clearly have awesome taste! Come and play more of my fave nail games!