How to play the game "Sarah and her Indian Makeover Game"?
In this brand new makeup game for girls, you can discover a new country, and Sarah who comes from India. In India the girls like to wear a Sari - it's a really beautiful dress that has lots of pretty sequins and colours! It is made from one piece of beautiful fabric, and it has to be folded around in a special way! Read more
In this game Sarah wants you to give her a complete makeover - her hair, her eyes, her lipstick, and you can even choose a beautiful new Sari for her! There are 35 different designs to choose from!
She also loves jewelery and there is lots here for you to use - there are newcklaces and earings too. She loves her long hair though, so Sarah doesn't want you to cut it - it makes her feels like a really beautiful girl!
Have fun with this game!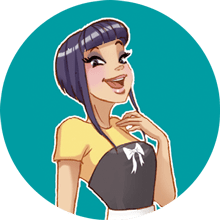 Sarah and her Indian Makeover is one of my favorites! We clearly have awesome taste! Come and play more of my fave make up games!