How to play the game "Pro Tennis Game"?
Tennis is a fun sport which can be played by two to four players. To play this sport you need a racket and balls, and of course a net. The goal of the game it to hit the ball and to make it land on the other side of the net without one of your competitors being able to hit it back to you. In this fun sport game for girls you can move around using the arrow keys on your keyboard. The space bar is used to hit the ball with your racket, or to start your turn. Read more
You'll have three games to play in each round of this sport game. The points in this tennis game are counted in sets of 15. So the score will go up like this: 15; 30; 45 and the win! So really all you need to do is win with 4 balls to win the tennis game for girls. You can play these sports games with two players so then it's a race to see who gets the points quickest!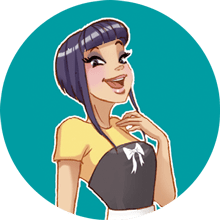 Pro Tennis is one of my favorites! We clearly have awesome taste! Come and play more of my fave sports games!