How to play the game "Princess Hair Game"?
Annabel has always dreamed of being a princess, and just a few months ago, something amazing happened. She fell in love with an exchange student who just happened to be the heir to the throne of a remote country! So, the guy to her on vacation to see the palace, go skiing and enjoy his family's private yacht. What a lucky girl! Now it's time for her to be presented to the kingdom though, and she's not sure she is ready for such responsibility… Read more
Being the center of attention wherever you go is not so easy. Annabel has always cared about her appearance, but she is more used to modern style, which isn't exactly appropriate for a dance at the royal palace. Hmm, what's the best way to instantly change your style? A new haircut of course! Cut this princess' hair and add different dyes to make her stand out from the crowd. Wow, with such a cool new hairstyle, no one will ever guess that she's so nervous!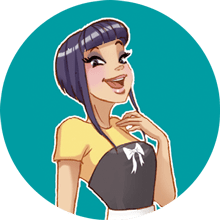 Princess Hair is one of my favorites! We clearly have awesome taste! Come and play more of my fave princess games!