How to play the game "New Year's Eve Dress Up Game"?
The new year is about to begin, woo hoo! Lilou, Lea and me, Lee are all ready to go, but we're still waiting for our friend Naomi! We have all decided that our new year's resolution is to never be late...so Naomi is not off to a great start! It's New Year's eve though, so there is no time to waste! Can you help us find a great outfit for Naomi? Read more
There are some seriously gorgeous clothes in this dress up game, you may have some trouble deciding! Simply use your mouse to click on the clothes and drag them to this pretty girl. Don't forget, it's easy to jazz up an outfit for a celebration by adding cool accessories. Right, we still have a few minutes to give Naomi a beautiful hairstyle. There...ready! Happy new year to all you MyGames4Girls fans! Are you ready for the fireworks..?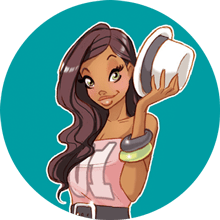 You're clearly loving New Year's Eve Dress Up - you should check out my pick of the best dress up games!