How to play the game "Making Magic Potions Game"?
Heres a really fun game where you can test your spell making and sorcery powers! Read more
Start by clicking on the scary looking witch! Then you'll see a cauldron in the middle of the room surrounded by lots of magic potions. Each of the yellow markers highlights a different type of potion. To make a spell you need to add a different potion from each section. As you add them you'll see the spaces at the bottom of the game filling up with the potions you have used - like a list of ingredients.
When you've got all your ingredients, click on the pink "END" bag, and see what you have turned your witch into!!!
...will she be a beautiful princess or a toad? a young baby or maybe even an ugly monster!!! This game is so much fun, and you can play it time and time and time again to see what different potions will make your witch turn into!!! Then send the game to your friends by clicking the "send to a friend" button!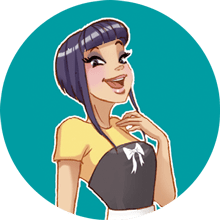 Making Magic Potions is one of my favorites! We clearly have awesome taste! Come and play more of my fave make up games!