How to play the game "Makeup games 4 Melodie"?
Tonight Melodie wants to have a complete makeover, to turn her from a cute little girl into a beautiful woman. For this you need to start the game by clicking on the question mark in green at the top of this makeup game, and here you'll see some examples of successful make-up. But for this special occasion, you can also have fun to give her a really horrible makeover if you want to. Read more
Like in a lot of free makeup games, to use the makeup in this free girls game, just use your mouse to choose the different elements. You can also added jewelry and accessories from the selection, and by clicking on her hair, you can also change her hairstyle and color. Try our some of our other themes of games by choosing from the selection in the main menu!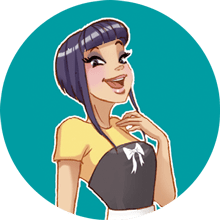 Makeup games 4 Melodie is one of my favorites! We clearly have awesome taste! Come and play more of my fave make up games!