How to play the game "Make up a Rock Star Game"?
Testing, testing...the room is filling up, the lights and microphones are ready, the band are about to go on stage and the singer...she, well she, wait where is she!? Oh dear, Eva is hiding in her dressing room because she's having a make up melt down! Eva is a rock star known for her impeccable style and magnificent voice, but she is clearly having a bad night. Her personal stylist couldn't come along for this tour, so it's up to you to step in. Read more
Eva is usually busy writing songs, gigging or giving interviews, so she doesn't have the energy to style herself right now. In this make up game for girls, Eva needs a complete makeover. She's still wearing her clothes from home! Start with a facial to remove any traces of stress and life on tour, then move onto a rockin' outfit and gorgeous makeup. Check out those spikes and studs! Think you can make up a rock star? Prove it, and rock on!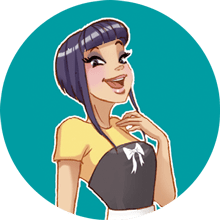 Make up a Rock Star is one of my favorites! We clearly have awesome taste! Come and play more of my fave makeover games!