How to play the game "Make Me a Gypsy Princess Game"?
Melinda loves Gypsy music and fashion, in fact she loves the whole culture! According to legend, a Gypsy princess who lived long ago, thanks to her beauty, had the power to enchant the heart of any man, but never steal his soul. She travelled the world and fascinated many souls with her beautiful eyes. Melinda dreams of being as enchanting as the lady in this legend. She wants to become the most beautiful young Gypsy Queen! In this dress up game for girls, you are going to make Melinda into a mysterious Gypsy princess so she can charm the boys in her school with her beauty. Let the makeover begin! Read more
In this girls' dress up game, you must first prepare Melinda's skin with a facial scrub, then move onto cleansing and moisturising. Woah, just look at those eyebrows! Get to work shaping them up, then try out different looks with the gorgeous make up. Don't forget the jewelry too! Right, we're done with the beauty, but wait, her transformation still isn't complete. What are we missing? Clothes of course! Have a look through the amazing Bohemian clothes and fashion on offer, there are so many different styles to choose from. When you're done, check out the before and after pictures to see what a great stylist you are! We think it's time to party now, Gypsy-style!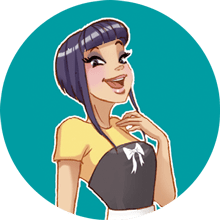 Make Me a Gypsy Princess is one of my favorites! We clearly have awesome taste! Come and play more of my fave makeover games!