How to play the game "Mabulle Game"?
Here are really funny girls games to add to the many girls games already on mygames4girls.com and to add to our many great cat games and other animal games. This new one features Mabulle the cat and it's really funny because the object of the game is to hit as many birds as you can. Watch out through because the bird might do a dropping on your head if you aren't careful! Read more
Move Mabulle the cat left and right using the arrow keys on your keyboard, and use the space bar to launch your stone at the birds, then just sit back and watch how many birds you manage to get in this funny game! Do you like playing fun girls games like this one? If you do, there are lots more on mygames4girls.com so have a look round our animal games, and don't forget to leave a comment below!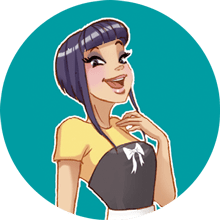 Mabulle is one of my favorites! We clearly have awesome taste! Come and play more of my fave free games!