How to play the game "Love is a Rollercoaster Game"?
Are you the sort of girl who's already dreaming about your wedding day? When you're planning a wedding, one of the most important decisions is the location: a park, a beach, a place of worship... there are lots of places to choose from! In today's girls' games you'll meet Laia and Toby, an eccentric young couple who both love rollercoasters. In fact, they love them so much they decided to get married in a theme park! Read more
In this wedding dress up game you'll get to choose the perfect outfits for Toby as they kiss on a roller coaster. Beautiful wedding dresses, smarts suits, jewelry, a bridal veil... there are loads of gorgeous clothes and accessories for you to choose for in this love game for girls. Let's just hope neither of them starts to feel sick! Do you think you'd like to get married in a theme park just like this adventurous girl and boy? Leave us a comment to tell us all about your dream wedding!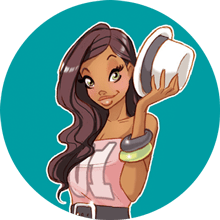 You're clearly loving Love is a Rollercoaster - you should check out my pick of the best dress up games!