How to play the game "Grandparents' Sushi Date Game"?
Granny and Grandpa are celebrating their 40 year anniversary today, wow, that's a long time to be a couple! They have many romantic dates throughout the year, but they always have an extra special date on their anniversary! In this romantic dress up game for girls, we'll be accompanying Granny and Grandpa on their date. They thought they'd try something new this year by going to a sushi restaurant! They're all sat down and ready to dig into some sushi, sashimi and drinks when uh oh, disaster strikes...Granny has forgotten her clothes! Read more
It's not her fault...she often forgets things at this age, and she is perfect to Grandpa no matter what, so she didn't even realise that she had forgotten to pick a glam outfit! Luckily, a fashionable girl gamer is in the building: that's you! Come to Granny's rescue by choosing a cute outfit for her. Choose from all the different items on offer to get Granny looking her pretty self once more. Grandpa is sure to fall in love with her all over again! Don't forget you can also change Granny's hairstyle, jewelry and expression. Happy anniversary Granny and Grandpa! We won't tell anyone what happened if you don't...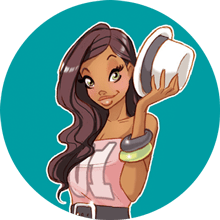 You're clearly loving Grandparents' Sushi Date - you should check out my pick of the best couples games!