How to play the game "Girls' Hairstyles Game"?
Do you love changing your hair and experimenting with different looks? Do you spend hours in front of the mirror playing with your hair and thinking up new colors and styles? If that sounds like you, you'll love this emo hairstyle game! Laura is a pretty emo girl who loves trying out crazy things with her hair, but in this gothic girls' game she needs your help to find a colorful hairstyle that really suits her. You see, there's a really cute new boy in Laura's class at school… She hasn't had a chance to talk to him yet, but maybe a streak of pink or purple in her hair would help to catch his eye! Read more
Let's get experimenting with this hair game and find a brand new look for this cool emo girl. Pink, purple, green, blue… why not try a multicolored hairstyle to make her unique?! Make sure you add bows, hairbands or emo hairclips shaped like skulls or broken hearts, too. With these beauty games for girls, you can try working as a hairdresser or a stylist and get loads of practise at giving makeovers! Get styling with these girls' games, and have fun!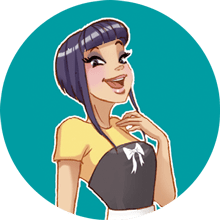 Girls' Hairstyles is one of my favorites! We clearly have awesome taste! Come and play more of my fave make up games!