How to play the game "French Pedicure Game"?
Elisa is getting ready to go on vacation in these girls' games! She's heading away with her three best friends to spend a few days chilling on the beach, soaking in the sun and generally doing nothing but relaxing! She wants to look gorgeous from head to toe when she strolls along the sand, and that means giving her tired feet a much-needed pedicure. In this manicure game for girls, you'll get to give this lucky girl a stylish French pedicure with colorful nail polish, toe rings and much more. If you've ever visited a beauty salon for your own manicure or pedicure or if you've ever tried doing one in beauty games, you'll have no trouble making Elisa's toes look tip-top! Read more
Elisa works long, hard hours and her feet really need some TLC. Luckily we have a girls' games expert like you on hand to help her out! Just like a professional beautician, you'll have the choice of dozens of different colors of nail varnish in this free pedicure game: red, blue, green, silver, and even patterned polishes. Be as creative as you like in this girl game, and add a few accessories to give her feet that extra little something; just use your mouse to choose the temporary tattoos, gemstones and other details that you like best, and place them on Elisa's feet in any way you like. There are even a few special designs just for Christmas! Once you've finished giving Elisa her French pedicure, just choose a pretty pair of shoes for her and she'll be all set to head to the beach! If you enjoy being a beautician in this girl game, why not tell your friends about it? Everyone can enjoy a pedicure or manicure thanks to these beauty games, free of charge!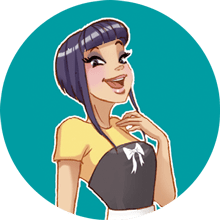 French Pedicure Game is one of my favorites! We clearly have awesome taste! Come and play more of my fave manicure games!