How to play the game "Free Hairdressing Game"?
Curling, straightening, perming, braiding, cutting, layering...there are so many different things to think about when you're a hairdresser! In this game, your aunt has taken you on as a hairdresser's apprentice. It's your first day on the job and the first customer to walk into the salon is your aunt's most prized customer, a young girl named Linda. Linda spends a lot of money at the salon, so you must do a good job to make sure she comes back...no pressure! Read more
Before you start cutting Linda's hair, you must prep it in this beauty game. Look at how frizzy it is! In this girls' make up game, you must shampoo the hair first and comb away all those knots. Then, grab your scissors and cut Linda's hair! There are a few length options to choose from...be brave with your choices! You can also dye her hair crazy colors. Being adventurous is the mark of a good stylist. If you do not succeed, don't get stressed and pull your hair out!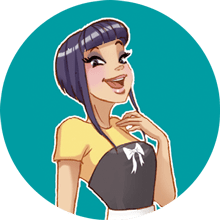 Free Hairdressing Game is one of my favorites! We clearly have awesome taste! Come and play more of my fave hair games!