How to play the game "Fiona and Shrek's Wedding Game"?
Finally the day has come! In the land of the famous ogre, Shrek, everyone is celebrating, because it's the day of Shrek and Princess Fiona's wedding! Shrek and Fiona have been madly in love with each other since their adventure, when Shrek saved Fiona from her lonely tower and the scary dragon. After this feat, Shrek discovered that Fiona was a horrible ogre, just like him! Since then, their love has grown and grown. They have lived happily in his castle, but now their wedding day has arrived in this free celebrity wedding game for girls! Read more
Of course, ogres are very nice creatures, but they have no idea about fashion, makeup or beauty, so they'll need the help of an expert like you! Pay attention to the skin, you'll need to cleanse, tone and moisturise thoroughly! Make sure you do this for both Shrek and Fiona, and then you'll need to choose their wedding clothes in this celebrity couples game! Don't you think Shrek and Fiona make the cutest couple ever? Have you seen the Shrek movies? Tell us in the comments after playing this free Shrek game!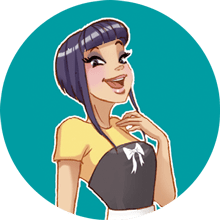 Fiona and Shrek's Wedding is one of my favorites! We clearly have awesome taste! Come and play more of my fave makeover games!