How to play the game "Horseback Fighter Dress Up Game"?
Ready? Set? CHARGE! Joan is a fighter who is not afraid of anyone. She is sick of men ruling the land and wants to fight for the rights of women! She is about to go into battle with some of the scariest warrior men in the kingdom, and she needs to look awesome while she beats them! In this dress up game, you need to help get Joan ready for the fight ahead with the latest medieval fashion. Let's show those warriors what a girl can do! Read more
Choose from different clothes and hairstyles in this girls' dress up game, but most importantly...different types of armour! You can match Joan's armour to the rest of her outfit, not forgetting the variations of weapons on offer. These guys don't stand a chance. Now, what's missing? Armour for Blade the horse of course! Blade is Joan's trusty sidekick in this girls' game, and she's relying on him to help her win this battle, so don't forget that he needs protecting too! You can also chance the colour of his hair to make sure he looks his best. Looks like these two are ready for a fight. Bring it on!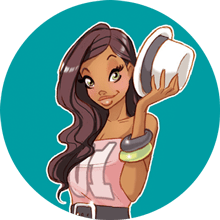 You're clearly loving Horseback Fighter Dress Up - you should check out my pick of the best horse games!