How to play the game "Egyptian Princess Game"?
Melissa is a curious girl. She went to her local museum recently and started exploring the section about the Ancient Egyptians. So fascinated she was, that she ignored the big sign that said 'do not enter'. Uh oh. What happened next was beyond scary...but also absolutely amazing! Read more
Melissa accidentally opened the door to an ancient tomb...spooky. As soon as she stepped inside, she was propelled back in time by thousands of years! When she opened her eyes, she was back in ancient Egypt! The problem is that she still has her normal clothes on, and people are starting to look at her like she's a bit weird. Quick! Dress her up in Egyptian clothes and make her look like a real Egyptian princess. Wow, people are already treating her like royalty! Hmm, she could get used to this...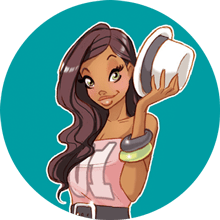 You're clearly loving Egyptian Princess - you should check out my pick of the best princess games!