How to play the game "Dressing for the Tea Room Game"?
Paula has just started college, so she hasn't had much time to catch up with her girlfriends. What with all her exams and her new job at the library, she has almost no free time! But, today, she finally has the afternoon off. So, she is going to meet her friends at the most sophisticated tea rooms in town! She has always wanted to try some tea, cakes and pastries from there. Read more
Paula really wants to take some pictures with her friends to hold onto the memories, so she needs to look her absolute best. Style her hair, makeup and outfit. Remember to give her a good facial too. Use a scrub, mask, moisturiser, concealer...in fact, make sure that you take care of the skin so well that you won't need to use any make up! Then choose from various outfits. Dressing up for tea is so much fun! This day is going to be great! Now tell us girls, do you prefer drinking tea with cakes, or pastries?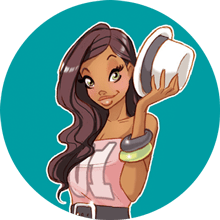 You're clearly loving Dressing for the Tea Room - you should check out my pick of the best dress up games!