Give Tony a brand new look before the horse riding show!
Fashion shows, weddings, birthdays... there's always something exciting going on in our girls' games! Today we're heading to a horse riding show with our friend Tony. She's been riding horses and ponies since she was just a little girl, and how she's a champion showjumper. She's hoping to take home the gold this afternoon and she wants to look good while she does it, so find her a new outfit in this dress up game with horses!
You can dress up Tony like a real cowgirl in this fashion game, with cowboy hats, boots, scarves and jackets. Don't forget to choose a nice saddle and reins for her horse - he wants to look good too! Have fun, and keep browsing the site for more horse games for girls.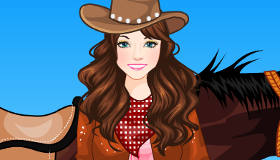 Dress Up a Girl and Horse
-
100
votes
Dress Up a Girl and Horse comments from girls: