How to play the game "Dress Up a Powerpuff Girl Game"?
Actresses, singers, cartoon characters... you'll find all sorts of stars waiting for you in our girls' games! Today we have a great free dress up game starring some of our favorite Cartoon Network characters: the Powerpuff Girls! These three girls are only in Kindergarten, but they're already brave little superheroes with secret powers who fight to protect their town from villains and monsters. In this cartoon girl game, we'll be dressing up the cutest and sweetest girl of the bunch: Bubbles! Read more
Just like her sisters Buttercup and Blossom, Bubbles is a very pretty girl. She normally wears blue to match her eyes, but in this free dress up game you can find a brand new style for our superhero. You could even make her look like an elf or a witch if you like! If you following these the Powerpuff Girls on their amazing adventures, check out the rest of the surprise games on the site - you'll find loads of your favorite cartoon characters in these great girls' games!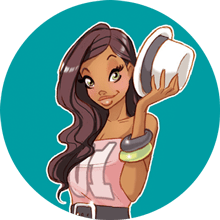 You're clearly loving Dress Up a Powerpuff Girl - you should check out my pick of the best celebrity games!