How to play the game "Doctor Dress Up Game"?
Birthdays, weddings... there's always some special occasion to celebrate in our girls' games! Today is a very special day, because our friend Sarah is about to start her new job. Sarah has just qualified as a doctor, and after years and years of studying and training she's finally going to start working in a hospital. She's very excited, not to mention nervous! Can you get her ready for her first day at work in this doctor dress up game? Dressing well and looking professional is very important if you're working with patients, so Sarah - sorry, Dr. Sarah! - needs to look very smart for her first day in her new job! Read more
To play this online girls' game, just click the red buttons on the left of the screen to see all the items available for you to choose from. You'll see all of the important hospital items and outfits here: white coats, green surgery scrubs, clipboards, stethoscopes... Like all of our dress up games, it's entirely up to you how you dress Dr. Sarah for her big day. If you love medical TV shows like House, M.D. or Grey's Anatomy, you'll love this hospital game for girls! What do you want to be when you grow up? Have you ever thought about becoming a doctor or a nurse, or maybe working in a pharmacy? Come by our forums and tell us all about it!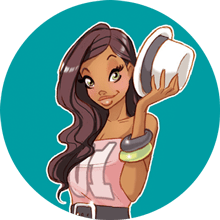 You're clearly loving Doctor Dress Up - you should check out my pick of the best dress up games!