How to play the game "Dinosaur Memory Game "?
Did you know that dinosaurs became extinct about 65 million years ago? Luckily you can still discover just what these fascinating creatures were like in this free memory game for girls. There are lots of cards with pictures of dinosaurs on, flip the card to see the dinosaur and then remember which is which in order to match the pairs. Work quickly and you might even beat the speed record! Read more
Diplodocus, Brachiosaurus, Protoceratops and of course, the dreaded Tyrannosaurus Rex! In this girls' game you must test your memory and find all pairs of before the time runs out. You have three levels to work through in this memory game and you will find more species in each level. Good luck and keep training your brain with these free, fun games for girls!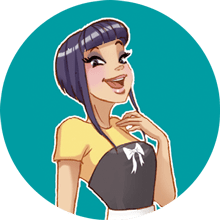 Dinosaur Memory Game is one of my favorites! We clearly have awesome taste! Come and play more of my fave animal games!