How to play the game "Diamond Nails Manicure Game"?
Have you ever thought about entering a hair or beauty competition? Our friend Clarissa has always been one of the prettiest girls in her class, so today she's entered a beauty pageant in her town. She couldn't believe it when she won the title of Miss Diamonds! Now it's time for her to collect her tiara on the catwalk, but she first she needs to redo her nails. Help her out! Read more
Start Clarissa's manicure by cutting her nails with clippers, cleaning them, polishing them, and getting rid of any cuticles with special products. Next, choose a pretty nail polish, some nail designs and ring to make her hands extra glamorous. This girl won't be fit to be named Miss Diamonds until you've added a bit of sparkle to her nails!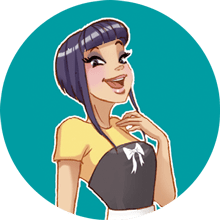 Diamond Nails Manicure is one of my favorites! We clearly have awesome taste! Come and play more of my fave nail games!