How to play the game "Cute Jungle Cubs Game"?
Deep in the darkest jungle there are some scary lairs and even scarier animals...it can be a very dangerous place. Unless you're in this jungle! This jungle is different, as it's actually part of a theme park! The animals have lots of room to run around and exercise, but because they are not wild animals, they do need a bit of tender love and care. In this free animal game for girls, it's your first day on the job in the theme park, so you need to look after some super cute jungle cubs. Aww! Read more
You'll notice that each cub has different needs. Some cubs would like a drink, others would like some meat, but they can't get these things alone, they're just babies after all! Click on the cute little cubs and drag them to the appropriate spot so they can either quench their thirst or fill up their tummies. Make sure you pay attention to their needs or they will get very grouchy! Do you like looking after animals? Which is your favourite animal? Tell us in the comments are playing this fun animal game!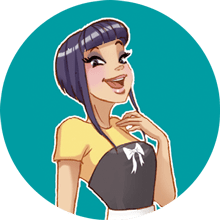 Cute Jungle Cubs is one of my favorites! We clearly have awesome taste! Come and play more of my fave free games!