How to play the game "Cray Cray Chic Teen Game"?
Hey girlfriend! Come meet Allie, the coolest girl in school. Allie has a reputation. She is so cool, that people think she's not very nice. Girls feel nervous around her, and boys are too scared to approach her. In fact, people think she's a little cray cray! Poor Allie! Read more
So, this teenager wants to change her fashion sense a little. She is a really smart girl, and has decided to reflect this in her clothes. So, it's out with the baggy jeans and crop tops, and in with the cute sweaters and preppy dresses! You find some cool accessories in this game too, so play around until you find the most unique look. We hope this helps Allie shake off that reputation, but remember girls, you should always be yourself, even if that means being a little cray cray!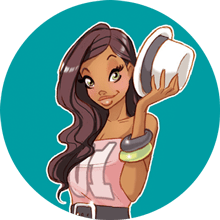 You're clearly loving Cray Cray Chic Teen - you should check out my pick of the best school games!