How to play the game "Cinderella's Grandaughter Makeover Game"?
"You shall go to the ball!" That's what Cinderella's Fairy Godmother said to her when she was dressed up to the nines...so where's our Fairy Godmother when we need one? It's been hundreds of years since Cinderella was around, so meet her great great great granddaughter, Clarissa! Clarissa's going to a ball tonight at the castle, and although times have moved on, she is still expected to look as glamorous as her famous relative in this beauty and make up game for girls! Read more
The most handsome men in the kingdom are going to be at tonight's ball, so Clarissa really wants to look her best. In this beauty and make up game for girls, it's your job to act as this royal girl's Fairy Godmother by giving her a total makeover. You'll start with the basics like cleansing, toning and moisturising, and then apply her makeup, jewelry and clothes. Wait until you see the dresses! We wonder if Clarissa will meet her very own Prince Charming in this free game. We wish we could go to the ball too!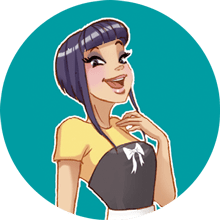 Cinderella's Grandaughter Makeover is one of my favorites! We clearly have awesome taste! Come and play more of my fave cinderella games!