How to play the game "Charlotte, a shy girl Game"?
Charlotte is so shy that she dares not develop an original style with her clothes, jewelry, makeup or hair. She loves to go unnoticed among the crowd. But shes now lost a bet with her girlfriend, and she must head off into the city to get a new look that is very pretty and original. Her friends hope that it will meet a boy who'll fall in love with her. Read more
In this makeup game you'll have to do everything to make her look really exceptional so that she'll be noticed. To finish this beauty game, you have accessories at your disposal to make Charlotte a really beautiful city girl.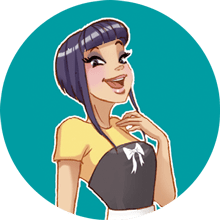 Charlotte, a shy girl is one of my favorites! We clearly have awesome taste! Come and play more of my fave make up games!