How to play the game "Cathy is going to the Disco Game"?
If, like all girls, you love getting dressed up to go and see your friends for the evening - whether it's for a disco, or just for a film, or some bowling...then you'll love this game! Here is a girl woh wants to get dressed up with you - she's a pretty girl who loves trying on all sorts of clothes and make-up - her name is Cathy! Read more
She's going to the disco tonight with her friends and she'll need a bag to take all her things with her, and she'll also need to look really elegant. I think she'll want to wear high-heeled shoes, but it's all up to you really - maybe she'll be able to do more dancing if she's wearing comfy shoes!
Have fun dressing up with Cathy, and then she'll have a great time at the disco. Then go and have a look at all the other games on the website - theres SO much fun here on mygames4girls!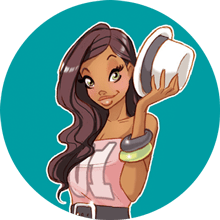 You're clearly loving Cathy is going to the Disco - you should check out my pick of the best dress up games!