How to play the game "Brooklyn Girl Beauty Makeover Game"?
Have you always dreamed of travelling to the world's most famous city, the Big Apple? Or better yet, living there!? If so, your dream is about to come true in this free beauty and make up game, because we are taking you on a trip to NYC! You're going to be hanging out in an apartment overlooking the Brooklyn Bridge, but, before you can explore this amazing city, you'll be exploring the beauty, styling and fashion regime of a cool Brooklyn girl. Awesome! Read more
You're popping to the beauty salon next door to your cool apartment; your skin is going to be glowing after these amazing beauty treatments. Then, we'll be stopping by the studio of a professional make up artist to experiment with some vibrant colors. Next? The clothes of course! The wardrobe in your apartment is already stocked to the brim with cool Brooklyn fashion. Now it's time to explore the big city! Let's step out in style...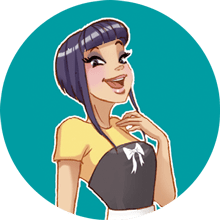 Brooklyn Girl Beauty Makeover is one of my favorites! We clearly have awesome taste! Come and play more of my fave beauty games!