How to play the game "Beauty salon for girls Game"?
This game for girls is set in a professional beauty salon. As well as applying makeup to our pretty model, you can also use all of the usual products found in a beauty salon such as face masks, fake eyelashes and cucumber treatments. Once you have used the masks and other treatments on our model use the make up kit to help the model to look her best. Finish off the models beauty session by choosing the perfect hairstyle to go with our models makeover as well as picking out the the perfect coloured contact lenses. Enjoy this and other fun makeup games for girls only on this site.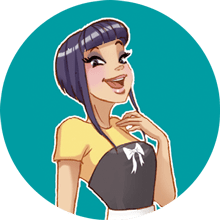 Beauty salon for girls is one of my favorites! We clearly have awesome taste! Come and play more of my fave make up games!