How to play the game "Animal Memory Puzzle Game"?
Bad news, girls – there's been a crazy nuclear explosion in this puzzle game! Professor R. Zany made some miscalculations in this last experiment, and his lab has gone boom! He has to go and sort out this mess, and in this animal memory game for girls he's left you in charge of a task while he's away: don't let Will the worm eat anything! This little worm needs to stay skinny so he can slip through the cables and repair the nuclear reactor, but he's very crafty and has hidden some fruits underneath the tiles. It's up to you to stop him to make sure he doesn't eat them in this girls' memory game – think you're up to the challenge? Read more
In this memory game for girls, you'll see a set of cards showing different fruits; you have to memorize their position before they're turned over, then click the cards so will doesn't have a chance to gobble up the fruit! Think you've got a good enough memory to solve the puzzle? Leave us a comment to tell us your high score, and remember to check out the rest of the site for more challenging girls' games!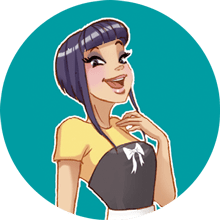 Animal Memory Puzzle is one of my favorites! We clearly have awesome taste! Come and play more of my fave puzzle games!